Commercial Pressure Washing Keeps Your O'Fallon Business Moving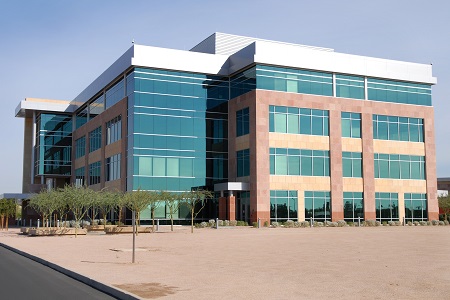 The business of doing business can seem overwhelming, but hiring a commercial pressure washing professional to help maintain the exterior surfaces around your O'Fallon business can really take the pressure off of you and help keep your business moving. It's important to look for a reliable exterior cleaning specialist who is fully insured, uses eco-friendly cleaning products, and has the expertise and professional equipment to get the job done to your satisfaction. But once you find the right commercial pressure washing pro to help you maintain your business, commercial property, or industrial facility - the rest will just fall into place.
So what can a commercial pressure washing professional in O'Fallon do for your business? A top-quality commercial pressure washing professional should do more than just sell exterior cleaning - they should produce happy customers!
Instant Curb Appeal
Professional exterior cleaning services like business facade washing, storefront cleaning, and building washing can eliminate the grimy buildup from your retail shop, office complex, or warehouse and give your O'Fallon business an instant curb appeal. Schedule routine storefront cleaning maintenance services and bask in the fresh appeal of your O'Fallon business.
Prime Parking
Eliminating discarded waste, organic growth, and slimy grime from your concrete surfaces will give your O'Fallon property an overall freshness that is hard to beat. Routine services like parking lot washing and parking garage cleaning will ensure safe access to your business and keep your outdoor spaces looking polished.
Exquisite Equipment
Okay, maybe that's a stretch, but keeping your hard-working heavy equipment free of dirt, debris, and grime can give your business a professional polish. Heavy equipment cleaning extends the life of your equipment, prevents breakdowns due to debris-related issues, and keeps your tractors, service vehicles, and excavators looking fresh and ready for business.
Dirty Dumpster Pads
There are a number of concrete surfaces in the back areas of your business that may be overlooked when it comes to exterior surface cleaning. Service bays, dumpster pads, and loading docks all require routine cleaning to keep pests at bay, minimize the presence of germs and bacteria, and give your business a front-to-back freshness. Be sure to include dumpster pad cleaning and other concrete cleaning in your commercial pressure washing maintenance routine.
If you've been looking for a commercial pressure washing professional for your O'Fallon area business, commercial property, or industrial facility, the exterior cleaning experts at Aquabrite Cleaning Solutions LLC offer professionalism, integrity, and quality of work that is second-to-none - call us today at 618-449-1699 to schedule a free estimate! Schedule Expert Pressure Washing In Metro East & The Surrounding Areas Today!