Dumpster Pad Cleaning For Well-Kept O'Fallon Commercial Spaces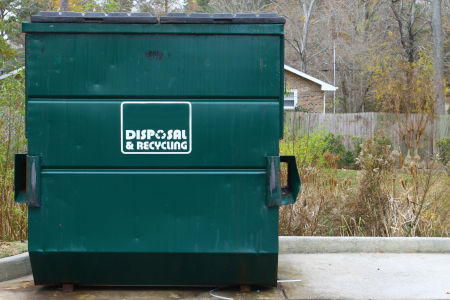 Aquabrite Cleaning Solutions LLC is the local family-owned commercial pressure washing specialist you can count on for top-quality concrete cleaning services like dumpster pad cleaning, parking lot washing, and more for your O'Fallon business or commercial property.
At Aquabrite Cleaning Solutions LLC, we sell exterior cleaning, but we produce happy customers - your satisfaction is always our number one goal! We use professional-grade cleaning equipment, eco-friendly cleaning products, and proven cleaning techniques to eliminate organic growth, grimy buildup, and unsightly stains from your concrete surfaces, giving your O'Fallon property a sparkling freshness.
Use our online form to schedule dumpster pad cleaning and other concrete cleaning services for your O'Fallon area commercial property, or call us at 618-449-1699 to speak to one of our courteous professionals about services for your Metro East business.
Dumpster Area Sanitation
Dumpster pads are breeding grounds for germs, pest infestations, and the buildup of grime and debris, but those nasty contaminants are no match for our dumpster pad cleaning pros. Aquabrite Cleaning Solutions LLC offers top-quality dumpster area sanitation and dumpster pad cleaning for your O'Fallon property to eliminate pollutants and leave your forgotten areas with an undeniable freshness!
Commercial Pressure Washing For Fresh O'Fallon Businesses
Our commercial pressure washing specialists are proud to serve a growing number of Metro East businesses, commercial properties, and industrial facilities with professionalism, integrity, and quality of work that is second-to-none. Our wide array of first-class pressure washing services for your O'Fallon business includes:
Building washing & storefront cleaning
Driveway washing & drive-thru washing
Sidewalk cleaning & parking lot washing
Heavy equipment cleaning
Window cleaning
Paver washing & concrete cleaning
Outdoor dining area cleaning
And much more!
We use our proven pressure washing and soft washing applications to gently eliminate invasive organisms, grimy buildup, and environmental pollutants from your exterior surfaces to give your business or commercial property a fresh appeal. Call us today at 618-449-1699 to schedule commercial pressure washing for O'Fallon, or use our easy online form to request a free estimate.
Hire A Pro For Your O'Fallon Property
When you leave your commercial pressure washing project to the pros at Aquabrite Cleaning Solutions LLC, you're not only saving valuable manhours, maximizing the fresh appeal of your outdoor spaces, and creating a welcoming freshness for your business, you're eliminating the stress of exterior surface cleaning.
Our skilled professionals have the experience and the expertise to safely remove tough contaminants from your most delicate surfaces or your hardest surfaces - from window cleaning to stone & brick cleaning, our skilled specialists have you covered. Trust your outdoor surfaces to the pros at Aquabrite Cleaning Solutions LLC for quality workmanship, exceptional customer service, and fair prices. Schedule Expert Pressure Washing In Metro East & The Surrounding Areas Today!